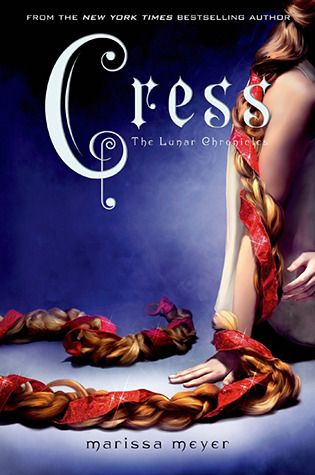 In this third book in the Lunar Chronicles, Cinder and Captain Thorne are fugitives on the run, now with Scarlet and Wolf in tow. Together, they're plotting to overthrow Queen Levana and her army.

Their best hope lies with Cress, a girl imprisoned on a satellite since childhood who's only ever had her netscreens as company. All that screen time has made Cress an excellent hacker. Unfortunately, she's just received orders from Levana to track down Cinder and her handsome accomplice.

When a daring rescue of Cress goes awry, the group is separated. Cress finally has her freedom, but it comes at a high price. Meanwhile, Queen Levana will let nothing prevent her marriage to Emperor Kai. Cress, Scarlet, and Cinder may not have signed up to save the world, but they may be the only hope the world has.
Why Read: I'm obsessed with this series. I have to read all of it. Bummer, I have to wait every time I finish one after the another.
What I Liked: I've never appreciated re-telling tales before but because of these series I'm obsessed. This started where it left off. I love how the author intertwined different characters from the previous books to the story of a new character. I admire authors who throws a lot of characters in their novel that will capture your affection for the every character she's writing for without confusing their readers. It really amazes. Very well written. Its a fast pace novel. Quite also thrilling with the situations that they get to. Complexity of its plot is as always interesting and detailed that will get you really hooked. Action, romance and intrigue that will keep your attention to the novel.
What Disappointed Me: NONE!
I must say, Kudos to the author for sticking to the theme of the book series cover since
Cinder (book 1). I like it a lot. A hint of which tale will be retold.

Looking forward for the next one.