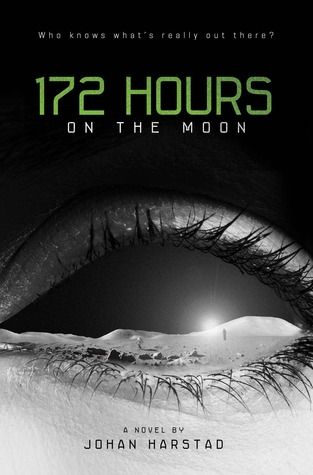 It's been decades since anyone set foot on the moon. Now three ordinary teenagers, the winners of NASA's unprecedented, worldwide lottery, are about to become the first young people in space--and change their lives forever. Mia, from Norway, hopes this will be her punk band's ticket to fame and fortune. Midori believes it's her way out of her restrained life in Japan. Antoine, from France, just wants to get as far away from his ex-girlfriend as possible.
It's the opportunity of a lifetime, but little do the teenagers know that something sinister is waiting for them on the desolate surface of the moon. And in the black vacuum of space... no one is coming to save them.
In this chilling adventure set in the most brutal landscape known to man, highly acclaimed Norwegian novelist Johan Harstad creates a vivid and frightening world of possibilities we can only hope never come true.

Why Read: I was looking for a spooky novel because of the occasion of course, Halloween. And I have been seeing this book being raved by a lot of book tubers so I got intrigued and I too joined the hype as well.
What I Like: I like the eeriness feel that it gave me. This novel is more of a thriller with a bit horror sprinkled to it. There were characters thrown in the novel to create that spooky effect of its plot which really did helped made me want more from it, Which is a good thing. Plus the photos and blueprints where great additional to help you visualize the settings. Once the characters sets foot on the moon everything happens fast! It sucked me in like there's no tomorrow. It even have real facts twisted in the story that really intrigued me. My mind exploded once I got to the last page. Seriously! Its an intense read.
What Disappointed Me: One thing that I didn't enjoy where the back stories of the teenagers. My mind is so wrapped up with the mystery of the moon that it frustrated me that I have to read 150 pages of the their back story, well not all but most of it. After 150 pages is the time they just landed on the moon. Aghhh...
From all the book covers that I've seen from this novel. This book cover is great. It gave me the creeps once I finished it with the eye and all cause it somehow related to the story.