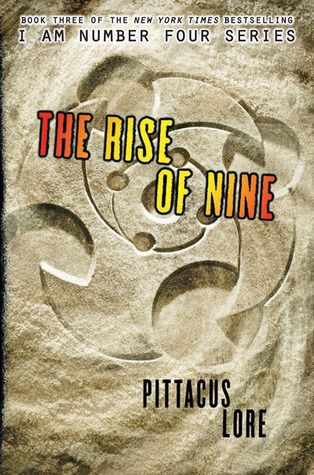 In Pittacus Lore's The Rise of Nine, third in the New York Times bestselling I Am Number Four series, the stakes are higher than ever as John, Six, and Seven try desperately to find the rest of the Garde before it's too late.

The Mogadorians who destroyed the planet Lorien continue to hunt down the Garde, the small group of Loric survivors who have taken refuge on Earth. The Garde must come together. They are Lorien and Earth's only hope.

During the dangerous mission at the Mogadorian base in West Virginia, John found and rescued Nine. But even with their combined powers, special abilities known as Legacies, the pair barely escaped with their lives—and they lost Sam in the process.

In order to save our world and their own, John and Nine must join forces with Six and Seven who have been battling the Mogadorians in Spain, and who are now trying to locate Number Eight in India.

Power in numbers will save us all.
Why Read: I read this because it's one of those series that I'm so into. I'm on a addictive state.
What I Liked: More action is being thrown in this novel. I've enjoyed the characters progression in their growth. I love how they somehow work together and establish their relationship to one another especially with all powers combined. New twists were being made and that somehow got me a bit motivated to devour it.
What Disappointed Me: I have to say I wasn't that much quite pumped up with the third installment. Compared with the second book, this was a bit dragging for me, quite repetitive and I wasn't that thrilled with the overall story. It might take a while to pick up the next book, which is The Fall Of Five.
Again, Another symbolism, I just don't get it. The font is hideous even the colors. AAGHHH!