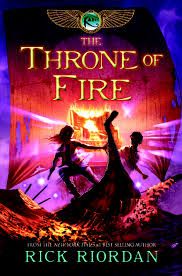 Ever since the gods of Ancient Egypt were unleashed in the modern world, Carter Kane and his sister Sadie have been in trouble. As descendants of the House of Life, the Kanes have some powers at their command, but the devious gods haven't given them much time to master their skills at Brooklyn House, which has become a training ground for young magicians.

And now their most threatening enemy yet - the chaos snake Apophis - is rising. If they don't prevent him from breaking free in a few days' time, the world will come to an end. In other words, it's a typical week for the Kane family.

To have any chance of battling the Forces of Chaos, the Kanes must revive the sun god Ra. But that would be a feat more powerful than any magician has ever accomplished.

First they have to search the world for the three sections of the Book of Ra, then they have to learn how to chant its spells. Oh, and did we mention that no one knows where Ra is exactly?

Narrated in two different wisecracking voices, featuring a large cast of new and unforgettable characters, and with adventures spanning the globe, this second installment in the Kane Chronicles is nothing short of a thrill ride.

Why Read:
Because the first book was awesome, I just have to get the next one.
What I Like:
I really love how Rick Riordan's novel such as these are educational. Not just the fun adventure that you get from these novels but you will actually learn something especially Egyptian mythology which is the root of the novel. Whenever I'm in the mood for mythological stories Rick Riordan is always on my top list.
Now. About the novel (Sorry for the sidetrack there) the settings of this is remarkable. The world build up is easy to absorb and imagine. This novel will really bring you to a lot of places which somehow added entertainment for me. Another fact is it's characters. More added personas to read about which sometimes confuses me of who is whom but it somehow added more interest plus actions to the story. And yes! its a fast pace read as per usual. Very important factor. Plot twist was great. Well written and somehow things weren't as predictable as what I thought it would be.
What Disappointed Me:
Honestly the only bad thing I could say is, I hope they added more cliff hangers in the end to make more readers excited for the next one. Haha
Same as what I said from the first book cover. If I were a kid maybe I would like it.
But Im not so the cover is a BIG no for me.

That wasn't a surprise. huh!? Anyway I still don't have the last book but again it will surely be a must read for me. Haha!
Cheers!