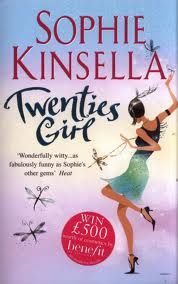 Lara Lington has always had an overactive imagination, but suddenly that imagination seems to be in overdrive. Normal professional twenty-something young women don't get visited by ghosts. Or do they?

When the spirit of Lara's great-aunt Sadie–a feisty, demanding girl with firm ideas about fashion, love, and the right way to dance–mysteriously appears, she has one last request: Lara must find a missing necklace that had been in Sadie's possession for more than seventy-five years, and Sadie cannot rest without it. Lara, on the other hand, has a number of ongoing distractions. Her best friend and business partner has run off to Goa, her start-up company is floundering, and she's just been dumped by the "perfect" man.

Sadie, however, could care less.

Lara and Sadie make a hilarious sparring duo, and at first it seems as though they have nothing in common. But as the mission to find Sadie's necklace leads to intrigue and a new romance for Lara, these very different "twenties" girls learn some surprising truths from each other along the way. Written with all the irrepressible charm and humor that have made Sophie Kinsella's books beloved by millions, Twenties Girl is also a deeply moving testament to the transcendent bonds of friendship and family.

Why Read: If you must know I'm a Sophie Kinsella fan. I 'am crazy obsess with her works. I was planning to devour all of her books except for the shopaholic series, just wasn't a fan of those as of now. So far I only have 2 more stand alone books from her that I haven't read. looking forward to get my hands on them. Haha!
What I like:
What I like from this novel or mostly from Sophie's books is its easy breezy feel she gives to her readers. I love her writing style and the way she incorporates English culture and famous landmarks in UK into her novels, I really enjoy that. I even learn British slang words like "telly" for TV and expressions such as "wankers" and so on. Its fun to know a bit of foreign stuff such as those.
I like the main character. She's fun to read, playful and a relatable protagonist. I love how the author puts the story together without getting to much details or in other words too boring to read. Every page is worth reading. There are a bit of silly moments in the novel that'll make you think that its way beyond or far-fetched but somehow it worked for me. You will appreciate the characters growth in the story and a moral lesson that it'll bring to its readers.
What Disappointed Me:
Well actually there is a bit of annoyingness that I felt with the secondary protagonist even with the main one. They have a childish qualities to them that really wants me to put down the book.
I 'am a fan of any book cover from Sophie Kinsella even if its a different version. They are preppy, super cute and its fun!

ALMOST! But its still a recommended novel!
I love the plot and the twist in the end. You MUST MUST pick this book.