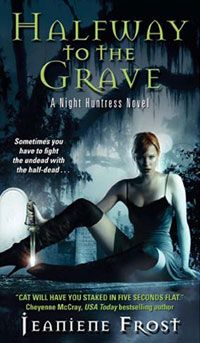 Half-vampire Catherine Crawfield is going after the undead with a vengeance, hoping that one of these deadbeats is her father—the one responsible for ruining her mother's life. Then she's captured by Bones, a vampire bounty hunter, and is forced into an unholy partnership.
In exchange for finding her father, Cat agrees to train with the sexy night stalker until her battle reflexes are as sharp as his fangs. She's amazed she doesn't end up as his dinner—are there actually good vampires? Pretty soon Bones will have her convinced that being half-dead doesn't have to be all bad. But before she can enjoy her newfound status as kick-ass demon hunter, Cat and Bones are pursued by a group of killers. Now Cat will have to choose a side . . . and Bones is turning out to be as tempting as any man with a heartbeat.
Why Read:

First of all I didn't even remember that I had this book in my kindle. I just remembered it because I saw the second book on book sale for a cheap price and read the synopsis and find the book intriguing. So I was force to read the first one which is this and read it for only 2 days! That's how I enjoyed it.
What I Like:

I'm a fan of hard core, kick ass women as a protagonist. I don't know why but it always, ALWAYS sucks me in immediately and there is no stopping. It kinda reminds me of Buffy The Vampire Slayer actually. This novel is a dark and fast paced read, A lot are going on to the story. The steamy romance, urgh! Its so good! Kiddos be warned for explicit scenes. I love how this ended that it kept me wanting for more.
What Disappointed Me:
One down fall of this is the main climax! Its was too bland and fast. I wasn't satisfied with how they ended the antagonist like it was just to get it over with. Like, they have gone a lot of trouble for that kind of climax. Its just not fair for a reader.