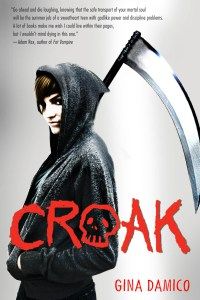 Fed up with her wild behavior, sixteen-year-old Lex's parents ship her off to upstate New York to live with her Uncle Mort for the summer, hoping that a few months of dirty farm work will whip her back into shape. But Uncle Mort's true occupation is much dirtier than shoveling manure. He's a Grim Reaper. And he's going to teach Lex the family business.
She quickly assimilates into the peculiar world of Croak, a town populated by reapers who deliver souls from this life to the next. But Lex can't stop her desire for justice—or is it vengeance?—whenever she encounters a murder victim, craving to stop the attackers before they can strike again. Will she ditch Croak and go rogue with her reaper skills?


Why Read:
Another recommendation by a booktuber, One of my fave! Everyone should subscribe. Its Pbookbuddy! And luckily, I found a copy of this in a very good condition at booksale. So didn't think twice just bought this baby and went out.
What I Like:
To tell you frankly, this is my second "death the ripper" type of novel I read. This has a different aspect or view of the story compared to the first novel I read in relation to this theme. One of the reason why I liked this, Is because it didn't revolve around the cheesy puppy love story which I have to say that its crucial for me to find a decent love story in YA these days because of its cliché and drama that US, readers suffer. So I'm glad that its not all about that. I love the mystery solving and whose to blame story of Croak. I enjoyed every character in the novel especially ferbus, one of the protagonist's friend. VERY hilarious and of course the main character Lexington Bartleby or lex. She's my type of girl a full on hard core with a sense of humor and sarcasm. I enjoyed reading her. I also enjoyed reading her weird parents. Don't get me wrong but her parents are funny because of how they treat her and how they are afraid of Lexington at the same time.
What Disappointed Me:
The middle part of the novel was a bit hard for me cause I didn't see quick progress in the plot. Most books, middle part is supposed to be where you get most excited or everyone is saying that it is the CLIMAX. It was a tinny bit dragging for me. Another, is the settings or world of "grimsphere" if I remember correctly. I don't know if it's just me but I still need more of their setting. I think that its not enough description of how their world moves or did I just miss a lot of reading about it? I 'am just curious about their society of grim.
Love it! I'm so into the metallic and silver shinning cover. It really gets your attention.
Thought its a bit emo but hey is shiny! :) haha

4/5 MUSHROOMS!
A very good read. Plus the cliffhanger, waaaahhhh! So excited for the next one!!!
CHEERS GUYS!
Here's a cute doggies reading, saw this picture on tumblr.
Adorable!