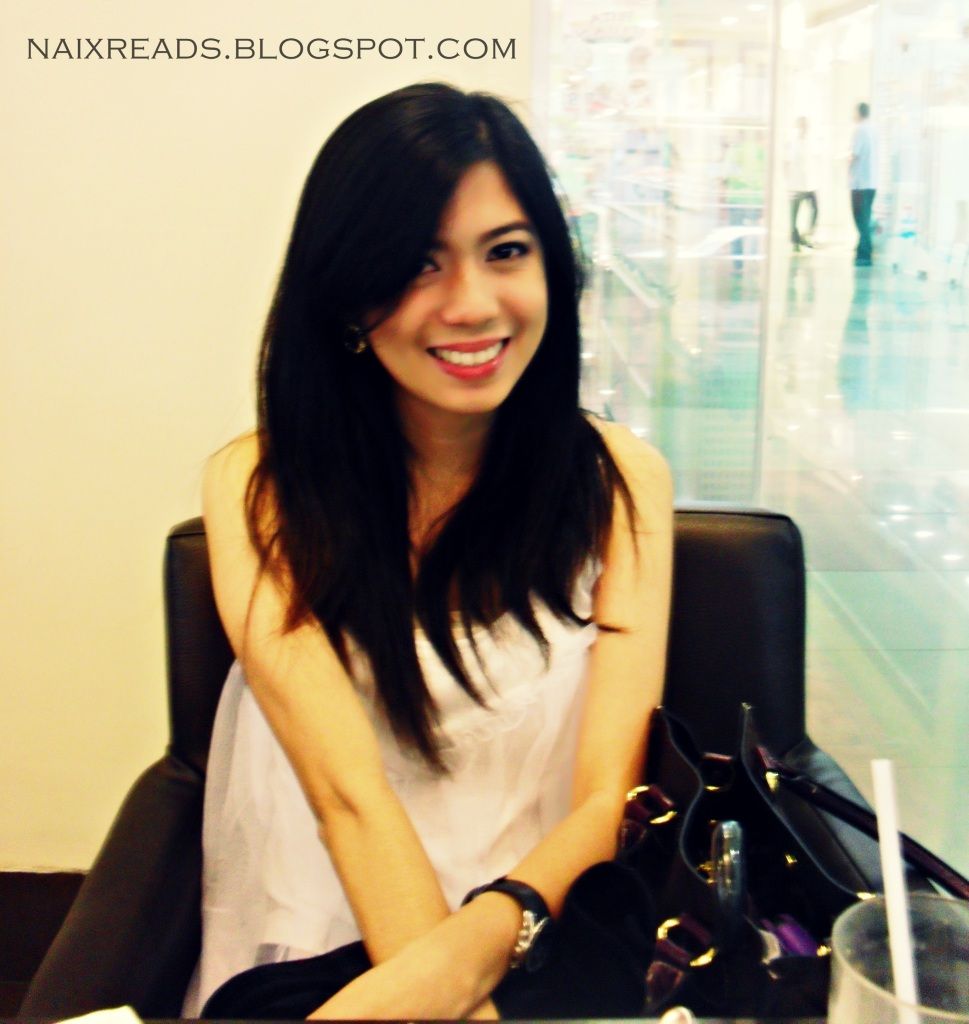 HI!
This is me greeting you with a sly smile.
Because today is a first impression haul! wwwoooohhhoooo!!
Plus a tiny wini follow me around post with my boyfriend daryll. Anywhooo, we went out to watch the Hunger Games which was PHENOMENAL! I was like holding my breath while I was watching it.ugh! ahaha Going back, after we watched went to a couple of bookstores and picked up some books and I planned of doing a "My Bucket Book List or Dying To Read Book List" or whichever.
Here are they, Stacked them up for you! aha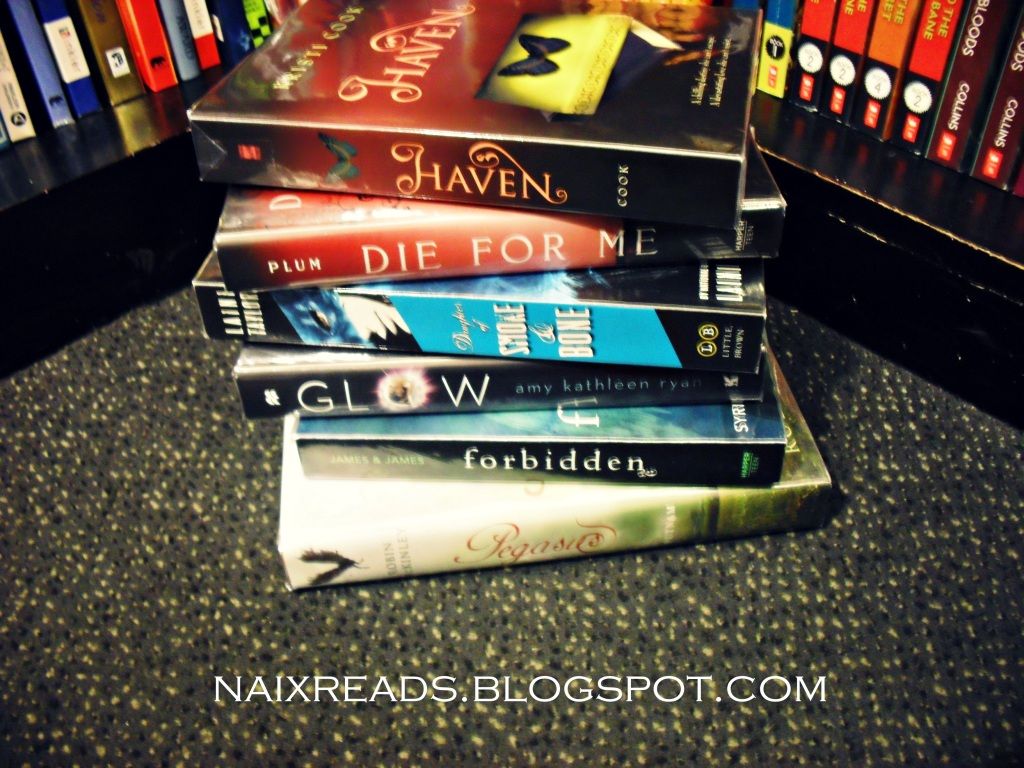 Again, this is somewhat like a first impression haul. I haven't read any of these books yet but I'am super excited to get started with them.
Violet McKenna thought she was just crazy when she had a vivid vision of her dad's murder. Her life started falling apart when her premonition came true. She's had flashes of other events too. The problem was nobody believed her until she found a new school: Winterhaven.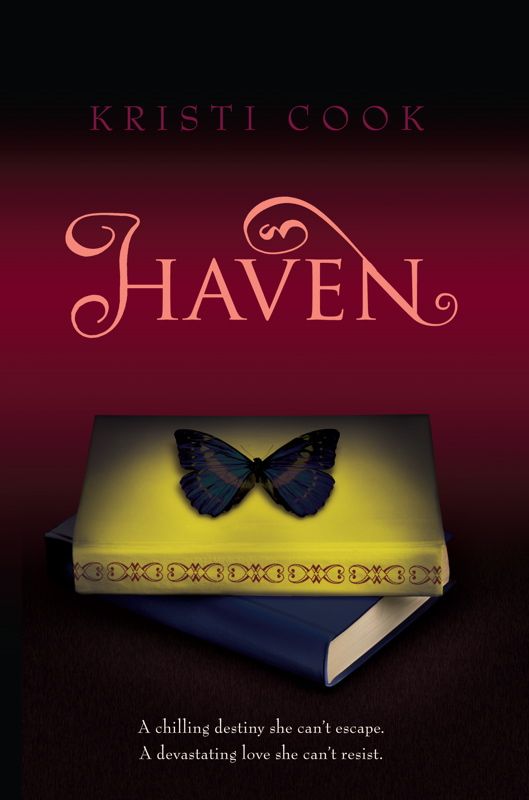 In the City of Lights, two star-crossed lovers battle a fate that is destined to tear them apart again and again for eternity.
When Kate Mercier's parents die in a tragic car accident, she leaves her life--and memories--behind to live with her grandparents in Paris. For Kate, the only way to survive her pain is escaping into the world of books and Parisian art. Until she meets Vincent.
Mysterious, charming, and devastatingly handsome, Vincent threatens to melt the ice around Kate's guarded heart with just his smile. As she begins to fall in love with Vincent, Kate discovers that he's a revenant--an undead being whose fate forces him to sacrifice himself over and over again to save the lives of others. Vincent and those like him are bound in a centuries-old war against a group of evil revenants who exist only to murder and betray. Kate soon realizes that if she follows her heart, she may never be safe again.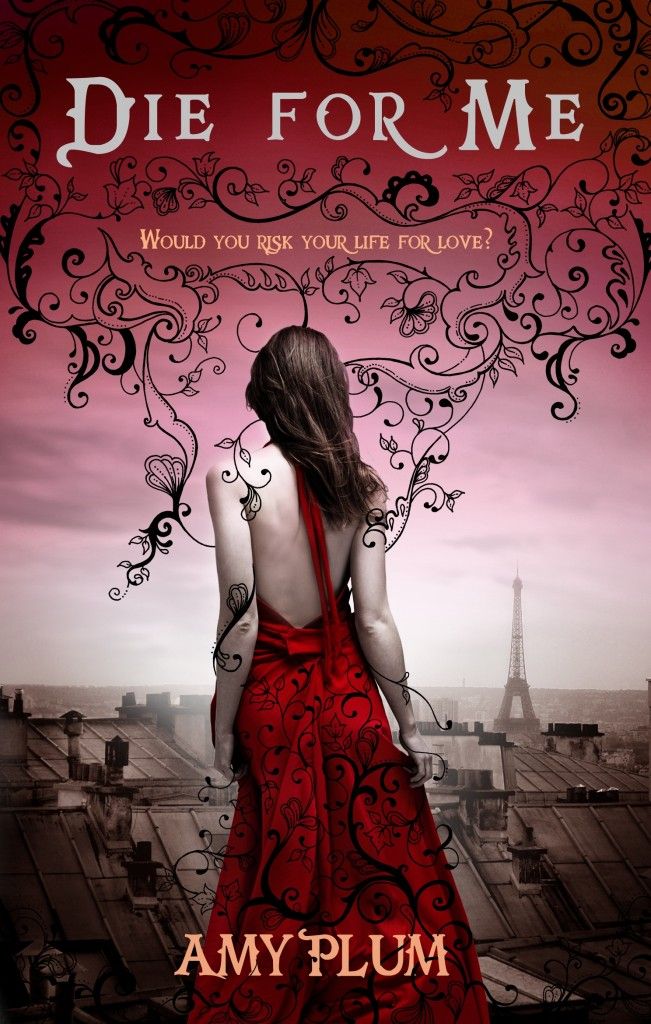 *Glow by Amy Kathleen Ryan
What if you were bound for a new world, about to pledge your life to someone you'd been promised to since birth, and one unexpected violent attack made survival—not love—the issue?
Out in the murky nebula lurks an unseen enemy: the New Horizon. On its way to populate a distant planet in the wake of Earth's collapse, the ship's crew has been unable to conceive a generation to continue its mission. They need young girls desperately, or their zealous leader's efforts will fail. Onboard their sister ship, the Empyrean, the unsuspecting families don't know an attack is being mounted that could claim the most important among them...
Fifteen-year-old Waverly is part of the first generation to be successfully conceived in deep space; she was born on the Empyrean, and the large farming vessel is all she knows. Her concerns are those of any teenager—until Kieran Alden proposes to her. The handsome captain-to-be has everything Waverly could ever want in a husband, and with the pressure to start having children, everyone is sure he's the best choice. Except for Waverly, who wants more from life than marriage—and is secretly intrigued by the shy, darkly brilliant Seth.
But when the Empyrean faces sudden attack by their assumed allies, they quickly find out that the enemies aren't all from the outside.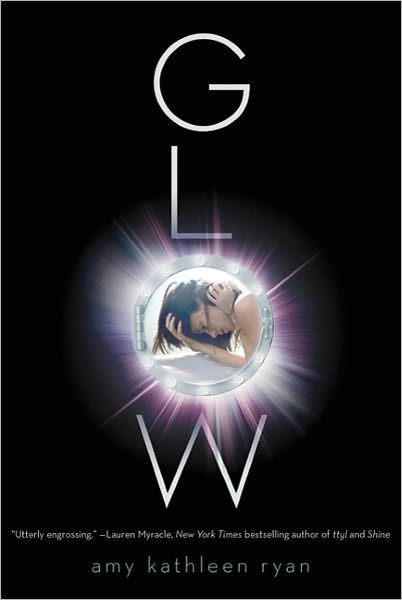 *Forbidden by Syrie James & Ryan M. James
She should not exist.
He should not love her.
Claire Brennan has been attending Emerson Academy for two years now (the longest she and her mom have remained anywhere) and she's desperate to stay put for the rest of high school. So there's no way she's going to tell her mom about the psychic visions she's been having or the creepy warnings that she's in danger.
Alec MacKenzie is fed up with his duties to watch and, when necessary, eliminate the descendants of his angelic forefathers. He chose Emerson as the ideal hiding place where he could be normal for once. He hadn't factored Claire into his plans. . . .
Their love is forbidden, going against everything Alec has been taught to believe. But when the reason behind Claire's unusual powers is revealed and the threat to her life becomes clear, how far will Alec go to protect her?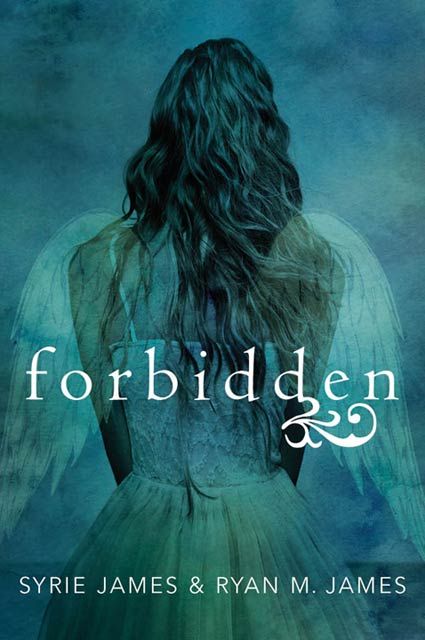 *Pegasus by Robin Mckinley
A gorgeously written fantasy about the friendship between a princess and her Pegasus.
Because of a thousand-year-old alliance between humans and pagasi, Princess Sylviianel is ceremonially bound to Ebon, her own Pegasus, on her twelfth birthday. The two species coexist peacefully, despite the language barriers separating them. Humans and pegasi both rely on specially-trained Speaker magicians as the only means of real communication.
But its different for Sylvi and Ebon. They can understand each other. They quickly grow close-so close that their bond becomes a threat to the status quo-and possibly to the future safety of their two nations.
New York Times bestselling Robin McKinley weaves an unforgettable tale of unbreakable friendship, mythical creatures and courtly drama destined to become a classic.
*Daughter Of Smoke & Bone by Laini Taylor
Around the world, black handprints are appearing on doorways, scorched there by winged strangers who have crept through a slit in the sky.
In a dark and dusty shop, a devil's supply of human teeth grown dangerously low.
And in the tangled lanes of Prague, a young art student is about to be caught up in a brutal otherwordly war.
Meet Karou. She fills her sketchbooks with monsters that may or may not be real; she's prone to disappearing on mysterious "errands"; she speaks many languages—not all of them human; and her bright blue hair actually grows out of her head that color. Who is she? That is the question that haunts her, and she's about to find out.
When one of the strangers—beautiful, haunted Akiva—fixes his fire-colored eyes on her in an alley in Marrakesh, the result is blood and starlight, secrets unveiled, and a star-crossed love whose roots drink deep of a violent past. But will Karou live to regret learning the truth about herself?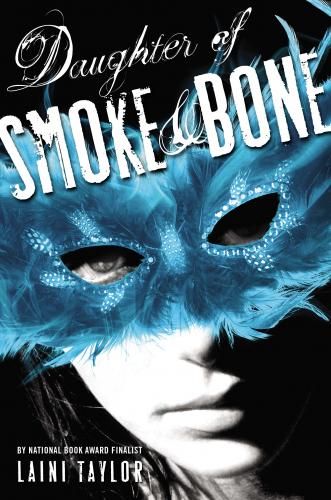 I'am really eager to get started reading those.
I heard and read number of good reviews from those books and hoping they do meet my expectations.
Anyway after getting a look around for books, My boyfriend and I had our date date. We ate at Four Fingers which I am currently obsessed with their chicken. SO DARN GOOD!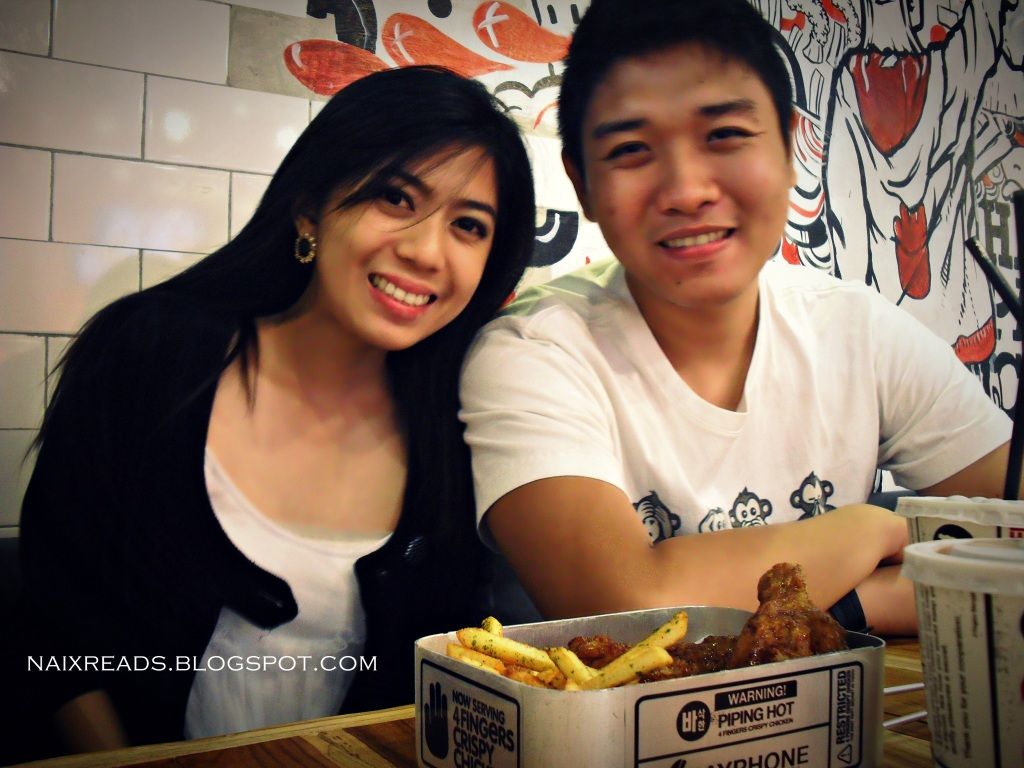 This is what daryll got. Looks so good and I bet it even tasted better.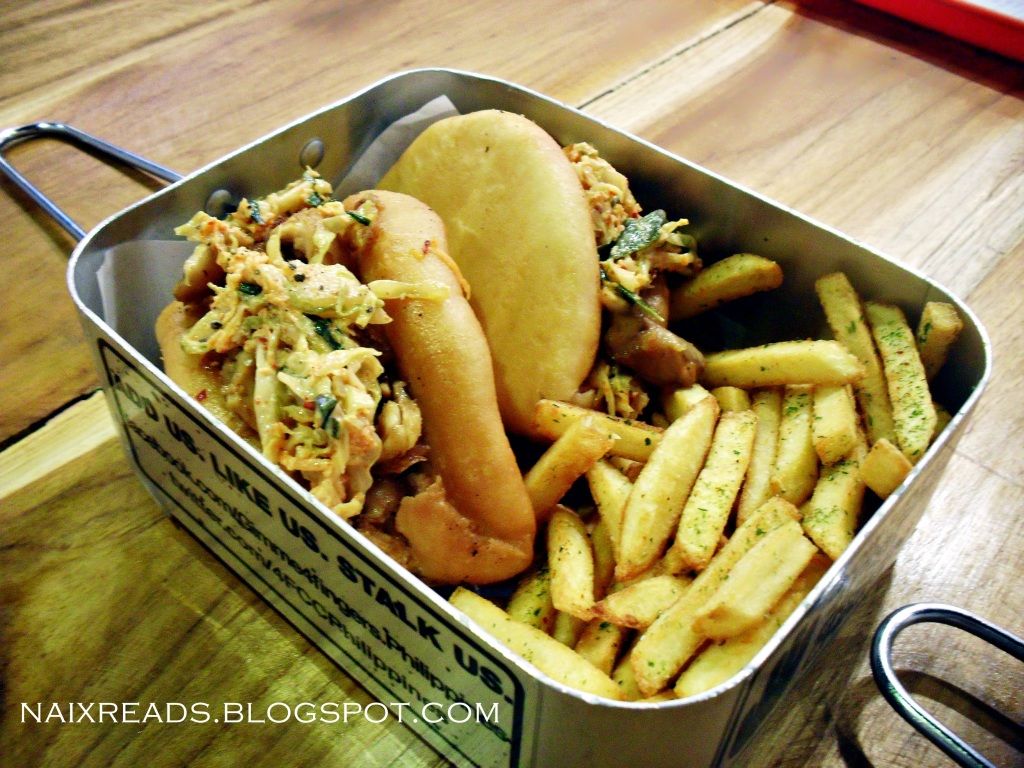 For me, The usual. I never get tired of their chicken. Reminds me of Boracay days.
Love it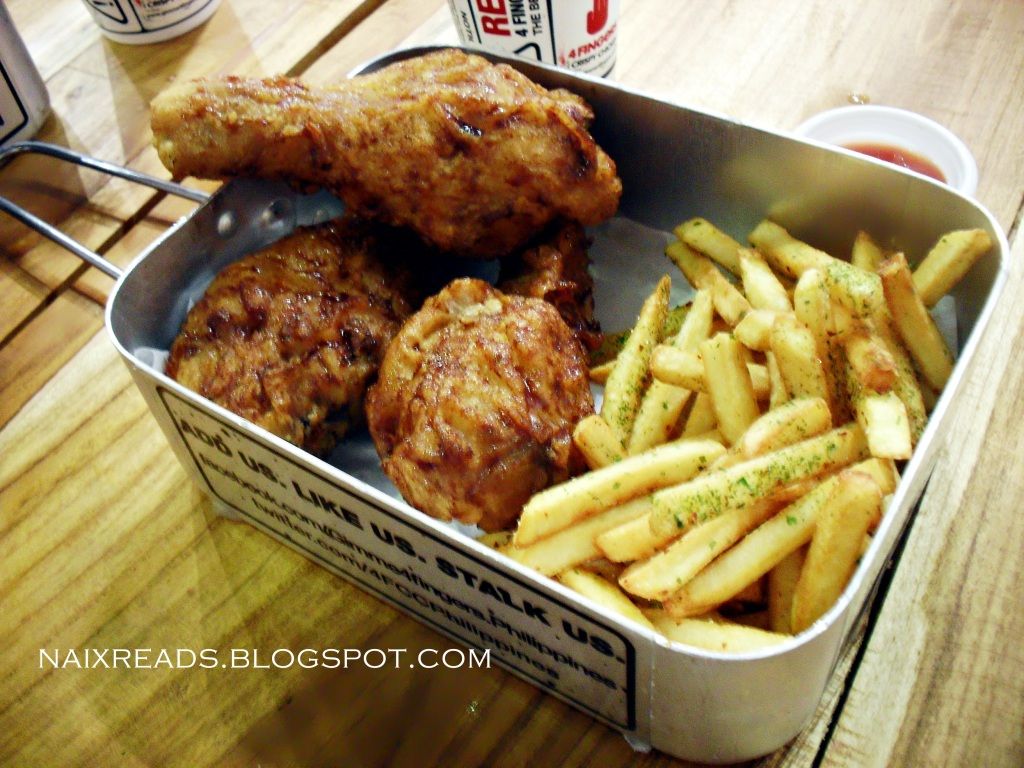 That is that. Thank you all for reading and hope that was interesting enough for you guys.
Gotta finish this chicken! AAaarggggghhh!
BYEEEE!